Time Trials & PDX
PDX / Club Trials
December 9, 2017 Saturday
Motorsports Ranch Cresson 1.3 CCW
Questions about Time Trials or PDX? Contact Brad Flack 951-283-5680 C
---
PDX and Club Trial
Saturday, December 9, 2017
Motorsport Ranch – Cresson, TX

This is a Club Trials (PDX Level 2) event per SCCA time trial rules held on the 1.3 configuration running counter clock wise . SCCA Performance Driving Experience events (PDX) are designed to concentrate on driver enjoyment, philosophy, and the application of performance driving techniques. PDX is a non-competitive event. SCCA Club Trials (CT) events provide a constructive learning environment that stresses proper driving techniques, while at the same time offering lap times. This event offers both PDX and Club Trials options for participants.
This event has two elements – PDX, and Club Trial. Please choose the correct element during the registration process:
The PDX element is open to novices with little or no track experience. PDX drivers will have an instructor assigned to them for the day.
The Club Trials element is a timed event (SCCA level 2 PDX), with the option to participate in the 2017 Club Trials Championship Series.
Driver qualification for Club Trials will be as follows:
1. Hold a current SCCA Competition license, or a history of tracking events with SCCA or SCCA recognized organizations such as PCA, NASA, CHIN, BMW, PBOC, etc; or
2. Hold a current SCCA PDX License; or
3. Hold an SCCA PDX log book that indicates the ability to 'solo' and has successfully completed at least 3 SCCA PDX events; or
4. Has been approved to drive solo by any of the following HPDE schools: Apex, Drivers Edge, Chinn, Eagles Canyon, Texas World, Edge Addicts.
5. Receive an entry waiver from the PDX Chief Driving Instructor.
If you do not meet the requirements of 1-4 above, you can request an entry waiver by contacting the Chief Driving Instructor, Brad Flack (bradflack@earthlink.net). All drivers approved for participation who do not meet 1-4 above and who don't have and entry waiver will need to choose the PDX option when registering. PDX drivers will have an instructor assigned to them for the day. Log Books will be provided at registration. The log books will be filled out after each session and can be used toward PDX licensing.
*Your AMB transponder must be compatible with our timing system. If you're not sure, please email Brad Flack (bradflack@earthlink.net) for clarification.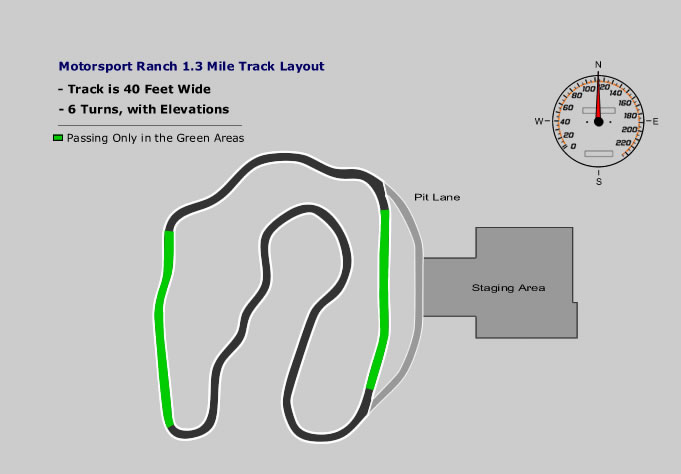 ---
2017 Club Trials Championship
The SCCA Texas Region has brought together a fun and great way to take your track driving experience to the next level! We are announcing the first Annual SCCA Texas Region Club Trials Championships. If you have ever been approved as a solo qualified driver for any verifiable HPDE or performance driving school, we welcome you to join us and drive your car to earn season points towards a championship. We are offering a fun way to drive on your favorite tracks, challenge yourself to earn your best lap time, and win season points to the first Texas Regional championship. You supply the driver and car; we supply the transponder to capture your real and accurate lap times. This event is put together to create a fun and unique challenge.
The season will consist of a minimum of 5 events and we are working to add even more for 2017 in this exciting new venture.
• Event #1 – Results January 28, 2017 at Motorsports Ranch Cresson | Session Results as xlsx file
• Event #2 – Results – February 11, 2017 at Texas World Speedway | Session 1 | Session 2 | Session 3
• Event #3 – Results – May 7, 2017 at Motorsports Ranch Cresson
• Event #4 – Results – August 26, 2017 at Motorsports Ranch Cresson
• Event #5 – Registration Open – December 9, 2017 at Motorsports Ranch Cresson
You will be able to earn championship points for your car in the following classes for cars. Winners are decided by fastest time around the track.
About Time Trial
Time Trial events with the SCCA are divided up into 4 different programs. Performance Driving Experience (PDX), Club Trials, Track Trials, and Hill Climbs. The Time Trials program is designed to accommodate all types of cars.
PDX
The PDX program provides an instructional environment for drivers who simply want to improve their driving skills and increase their enjoyment of driving their street vehicle. True to the "run what ya brung" adage, all it takes to be a part is your street car, a valid license and a helmet.
PDX events are about you, the driver. Plenty of seat time, plenty of individual instruction and a ton of driving exercises make up a PDX; all of which is designed to educate you and make you more confident behind the wheel, both on the track and on the street.
Participants receive a solid blend of driving instruction, ranging from the classroom to in-car training to "follow me" drills. A wide range of topics are discussed and shown at a PDX, including: following a "racing line", passing zones, speed limits and other general driving techniques. Of course, each driver receives feedback from his or her instructor at the end of each lesson.
PDX events are non-competition based. Why?
Because the focus is on you. Three other levels of the Time Trials program provide competition, but it's important that the skills taught at a PDX are learned beforehand so you as a driver can enjoy the latter levels of the program the way they were intended.
Club Trials
When you're ready to race against the clock, Club Trials is ready for you. The second level of the program, Club Trials builds on the instruction you received in the PDX while allowing drivers their first chance at competing against time. Competition classes are formed (with both street and fully-prepared race cars), and winners are decided by fastest time around the course.
Track Trials
Street cars no longer cut it at Track Trials. Only cars prepared for Road Racing or Solo events are allowed as speeds and intensity levels are higher. The tier-three program offers closed-course track time, with competitions again decided by fastest time around the course.
Hill Climbs
Full safety gear is mandatory as it's just you, your car and a mountain road. Hill Climb events are run on paved mountain roads over short distances, and in the true spirit of racing, fast time wins.
Do you and your car qualify for a Track Day PDX event?
You must be at least 18 years of age with a valid driver license. Convertibles, unless they are equipped with a hard top or an approved roll bar/hoop, are not allowed, See exceptions. Cars with other removable tops like, t-tops, and targa tops must meet appropriate safety regulations. The following convertibles are approved. MINI Cooper Convertibles, 2002 Porsche Boxster, and the Honda S2000 have been approved by the manufacturer as having factory rollover protection.
Should I do anything before I arrive at a track day PDX?
Tech Inspection Form If you are not sure your car is ready for the use on a racetrack, we suggest you take your vehicle to a technician who is skilled enough to evaluate your vehicle for track use. This is important! Your safety and other around you depend on your car being properly prepared. Items like brake pads, brake fluid, and cooling systems should be in perfect condition. You should also familiarize yourself with "flags" that are used at tracks.